Since the beginning of Toontown Rewritten's development, a whole storyline was put together in forms of an Alternate Reality Game (ARG) consisting of mysterious blueprints, encrypted clues, puzzles, and development previews. Joey, along with the help of Scootz who organized a couple ARGs and Captain Sandy who created the blueprints, frequently revealed clues relating to the storyline in a wide variety of media formats. Some were riddles, others were encrypted messages, and hidden clues were sometimes even found in images on the website.
Over time, information was put together collectively, and many fan theories spurred from different possible ideas. To this day, many players of the Toontown community continue to come up with theories, and it is believed that the most important secrets of the storyline have yet to be revealed.
Daily updates from Alpha
Main article: Alpha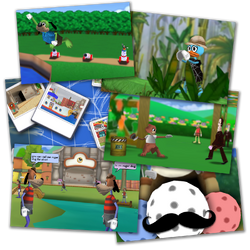 Even before Alpha began, the Toontown Rewritten staff conducted a "pre-Alpha build up" where segments of images were revealed on MMO Central Forums. Eventually the group of puzzle solvers came to a consensus that the puzzle was Gyro Gearloose's lab. Once all images were collected, they matched up to reveal the Toontown Rewritten launcher with Doctor Surlee in it.
During the Alpha stage, blog posts were frequently posted on the Toontown Rewritten website for every daily update. Because the game had a huge lack of features at the time, the staff figured that they needed to keep the Toontown community entertained. Every blog post was written by Joey (debuted with the name "Sir Max") along with a couple of other staff members, leading to the birth of skeptical silly stories related to the Toon Troopers.
Some blog posts that were not even ARGs revealed hints related to the storyline. For example, several blog post images showed an unfamiliar Toon by the name of Slappy before he even made his debut in preparation for an upcoming event. The Toon Council Presidential Elections, an event that ended Alpha, was an important aspect of the storyline and had been mentioned long before the event was publicly announced.
Rewriting the storyline
Main article: The 26th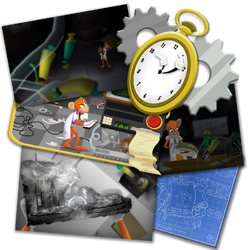 Toontown Rewritten's story has been revealed slowly over a number of blueprints and ciphers, most of which appear on the website. The very first ARG that was revealed on the website outside of MMO Central Forums was on November 26, 2013 by LL-TERMINAL43, which led to the beginning of something that is known as the 26th. On the 26th of every month, there would usually be a blog post written in a certain form of encryption. In order to understand what these blog posts are saying, players have to figure out a specific method of decryption.
Strange beings that are referred to as "The Two" seem to have knowledge of the ripple effects, Doctor Surlee's experiments, and the flow of time. Their true identities and whether they actually exist or not is unknown. Since 2014, they became the basis of revealing secrets regarding the shenanigans of Doctor Surlee and the Cogs. Time seems to be an important thing to remember about the storyline due to the frequent use of the phrase "Time is ticking", the significance of Doctor Surlee's pocketwatch, possible scenarios of time travel, and how things are being done a lot faster compared to Toontown Online's timeframe.
To learn more about all of the blog posts and other interesting theories, visit the "Alternate Reality Game" category. This category consists of pages created by users of the Toontown Rewritten Wiki with information and answers.
Secret ciphers and mysterious blueprints
A couple methods of encryption like morse code or a Caesar cipher had been used for some of the blog posts related to the 26th. Occasionally, an ARG may even take place on another website created by Toontown Rewritten, such as mingler.org and its contents. Most of Doctor Surlee's mysterious blueprints also include extra encrypted text, which are found within the Toontown Rewritten website after decrypting a blog post. These blueprints showcase a drawing of particular inventions, such as the popular Silly Meter. Several letters of the past were also written with an attached blueprint of the Rewritten Device.
Further reading
Discussions:
Update discussions:
Storyline speculations:
See also
External links
Ad blocker interference detected!
Wikia is a free-to-use site that makes money from advertising. We have a modified experience for viewers using ad blockers

Wikia is not accessible if you've made further modifications. Remove the custom ad blocker rule(s) and the page will load as expected.