"
Toons of the world, UNITE!
"

–Flippy
Flippy

Physical description

Gender

Male

Species

Toon Color

Residential information

Building

Street

Playground

Playground

Map
Flippy Doggenbottom is a dog NPC Toon who became temporary president of the Toon Council. He resides in the Toon Hall at Toontown Central.
Events
Flippy hosts special events to offer cats a special black paint to make them become Black Cats, usually every year on Halloween at Toon Hall in his temporary office, and sometimes during the Toon-torial. In service of Slappy during his absence, Flippy also hosts The Great Snowball Fight to make Christmas just as great as Slappy would have.
Flippy was also a candidate for Toon Council president which he later became as a temporary status. Like his rival candidate Slappy, he has hosted events in order to promote his campaign for the Toon Council Presidential Elections. During this time, he was located next to his campaign stand in the Toontown Central playground.
Appearances
Flippy occasionally promoted his campaign with special events and occasions, usually located in Toontown Central.
On October 31, 2013, Flippy hosted a special event that turned cats into Black Cats, thus marking Flippy's debut in Toontown Rewritten, as well as the beginning of his campaign for the Toon Council Presidentail Elections.
On December 29, 2013, Flippy hosted a New Years fireworks event that would occur every hour until January 2nd, 2014.
On February 17, 2014, Flippy and Slappy began campaigning in Toontown Central for the Toon Council Presidential Elections.
On April 19, 2014, Flippy lost the Toon Council Presidential Elections, but was considered Toon Council president due to Slappy's disappearance.
For April Toons Week 2015, Flippy and Fluffy appeared in Barbecue Headquarters (which was actually ToonFest 2014) to celebrate the holiday. Flippy wore a Chef's Chapeau hat at that time.
Campaigns and Presidency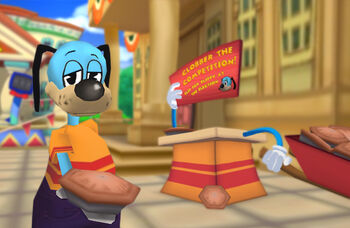 Flippy's campaigns for the Toon Council Presidential Elections were Black Cat transformations, whole cream pie fights and firework shows. He let cats turn black for Halloween, offered all Toons Whole Cream Pies from his campaign stand, and let Toons watch the fireworks to enjoy the week of the election.
Flippy lost the elections to Slappy. A Yesman came to interrupt the elections and made Slappy go sad. Flippy defeated the Yesman, thus starting the finale of the election, Doomsday. Other Cogs, including the Director of Ambush Marketing, flew down and attacked Toontown Central. At the end, Flippy threw a Whole Cream Pie, a Birthday Cake, and then a Wedding Cake at the Director of Ambush Marketing, defeating him. Alec Tinn and Doctor Surlee then claimed him to be a hero and the new President of Toontown because Slappy is currently missing. He accepted presidency, but only until the Cogs are out of Toontown.
"

With a heavy heart, I hearby accept the Toon Council Presidency.
Only until the Cogs are gone though.
If we're going to get rid of them, we have to stand together.
Toons of the world...
UNITE!

"

–Flippy
SOS Toon
Flippy is a 5-star Toon-Up SOS Toon who can be rescued by defeating the Vice President. He uses the Juggling Cubes to restore a combined total of 124 laff to all Toons engaged in a Cog battle.
Trivia
Flippy was already president of the Toon Council in Toontown Online. Canonically, the Toon Council Presidential Elections did happen and Slappy did get elected as president, but it was never shown to be a reality.
Flippy's SOS card is the highest Toon-Up SOS card available in the game.
Flippy shares his love for Whole Cream Pies, which is most likely his number one reason for wanting to host International Pi(e) Day.
In Alpha, Flippy would stand on the opposite side of Slappy when hosting events, since Slappy stands to the left side of Toon Hall.
Flippy was one of the very first Toons to reach the most laff points with a total of 38. However, Slappy had 42 laff points, which makes him the very first Toon to reach the most laff points.
During the timespan of the Toon Council Presidential Elections, Flippy himself as a real player could not friend other Toons due to some form of "election policy" that was established.
In Toontown Online, it was impossible to get the same exact Toon size as Flippy. He was made to be a lot taller than an ordinary medium sized dog so that nobody could copy his size, even though it's not impossible to copy his facial appearance.
Flippy once communicated with Toons by using SpeedChat - see Flippy/Election Phrases.
Flippy accidentally crashed his toy airplane into Slappy's hot air balloon, and it was implemented after the update onto the back of Slappy's balloon, with HD texture in place.
Flippy defeated the Yesman that made Slappy go sad. This makes Flippy the first Toon to defeat a Cog in Toontown Rewritten, and to discover how the Cogs can be defeated.
During Operation: Storm Sellbot Headquarters, Flippy references Walt Disney.
Flippy's shorts with the same exact type and color can be purchased from the Donald's Dreamland Clothing Shop, but the shirt he wears with the same color scheme can only be ordered/gifted from Clarabelle's Cattlelog when it is available for the Toon.
Alpha testers can receive a special version of Flippy's shirt known for "Doomsday survivors" by redeeming the code "flip-for-flippy" in the Shticker Book.
---
Originally Posted by joey19982 (Sir Max) on 05-27-2014
http://www.mmocentralforums.com/forums/showthread.php?p=4081371#post4081371

Originally Posted by BachelorsOfScience on 05-27-2014
This is what I'm thinking about as well. In philosophy, a person who time travels may change indirect or direct causes but the outcome always has to be the same. In TTR, toons voted Slappy as the president. In TTO, Flippy was the president and this most certainly has to be the outcome. Even though Slappy officially won, Flippy became the president anyway because that is the fate.

Slappy won in TTO as well. Flippy has always been the underdog in the Election, but when his best friend was made sad right before his eyes it brought out his true character. If Flippy and Slappy had switched positions, who knows if Toontown would have survived. Slappy didn't have pies.
Gallery
Trading card
Flippy

Flippy Doggenbottom, President of the Toon Council, was quite the underdog during the elections. After becoming the first Toon to figure out the Cog's weakness with one of his world-renowned cream pies, however, he was a literal hit! He's been one of the hardest working Toons in Toontown ever since, but he claims that he'll only remain president until his pal, Slappy, is found. Until then, you'll see him doing everything from greeting new Toons to opening new neighborhoods in an effort to keep Toontown the most Toontastic town in the Tooniverse!

ToontownRewritten.com
Ad blocker interference detected!
Wikia is a free-to-use site that makes money from advertising. We have a modified experience for viewers using ad blockers

Wikia is not accessible if you've made further modifications. Remove the custom ad blocker rule(s) and the page will load as expected.