This is a page featuring a list of rewards giving by ToonTasks that are optional. As the name implies, these tasks are just for fun and do not have to be completed, therefore you can delete these tasks. No rewards from these ToonTasks can permanently impact gameplay and/or progress of the Toon. After you have completed ToonTasks for parts of the Final Cog Disguise, there will be an infinite supply of Just for Fun! ToonTasks.
Rewards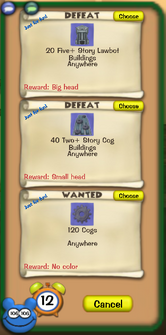 Big Toon Effects
Small Toon Effects
Flat Effects
Other Effects
Items
Trivia
Ad blocker interference detected!
Wikia is a free-to-use site that makes money from advertising. We have a modified experience for viewers using ad blockers

Wikia is not accessible if you've made further modifications. Remove the custom ad blocker rule(s) and the page will load as expected.