You can find Toontown Rewritten Wiki on Twitter @TTRWiki!
Welcome, Toons and Toonettes! Toontown Rewritten Wiki is the database focusing on the recreation of the former Disney's Toontown Online, Toontown Rewritten.

We look forward to having YOU be part of our community and discuss about all things Toontown! By joining the wiki, you agree to follow our policies. If you have any questions about the wiki, please feel free to reach out our staff with the use of Loony Labs' technology.
Creation
September 21, 2013
Number of articles


2,047

Number of files


6,305
Posted by Vidalia VaVoom on February 14, 2017 09:00 AM
Ah, what a lovely morning! I may have only received two hours of sleep, but love will keep me going today! You see, I spent all last night writing a letter to the dog I love. It is ValenToons Day, after all.
You know, Toons, I never felt that we did enough for ValenToons Day here in Toontown. There's plenty of lovely clothing in the Cattlelog, and it sure would be nice to throw a ValenToons Day party, but there's just something we're missing here... Can you think of what it is?
Now, I've heard the Toon Council has been a little silent lately as they work on expanding their team and finally completing some big projects, but that musn't stop us from showing support! For when the Toon Council does get around to it all... What kind of activities would you like to see during special Holidays in Toontown?
I have specific instructions to collect information from YOU Toons: What special events, games, prizes, contests, or even new ToonTasks could be given out for future Toontown holidays?
Give it some thought, and let me know in the comments! Stay Tooned to the news for upcoming excitement, as I assure you this dry spell won't last for much longer than a couple more days.
I must be off to deliver my love letter now. I certainly hope I don't bump into any of those nasty Cogs. Happy ValenToons Day, Toontown!
For more news blogs, see here.
Game

July 1, 2016: Toontown has received a major update consisting of new tweaks, server improvements, and OMG!Con 2016 items! Learn more about the update here.
July 2, 2016: From now until July 31st, make sure you receive your Member Mailer by following the instructions here!
July 9, 2016: Be sure to claim your items using "omgcon2016" in your Shticker Book before August 1st!
July 18, 2016: Along with the OMG!Con items, be sure to claim your brand new anvil accessory using "weight-off-shoulders" in your Shticker Book before August 1st!
July 19, 2016: To celebrate Toontown Rewritten reaching 1,000,000 registered accounts, take part in the offical social media storm by creating a post tagging #ToonEnough for a chance to win an exclusive Toontown Rewritten poster.
August 8, 2016: The Toontown Species Election is arriving soon! While Alec Tinn is still busy getting his preparations prepared, check out the blog for more information about the event!
August 20, 2016: Toons and Toonettes, it's time to get your party hats on and prepare for ToonFest 2016!
September 19, 2016: While an unfortunate server maintenance prevented ToonFest 2016 from opening its doors in the game, Alec Tinn kicks off the celebration by allowing Toons to nominate a new species from now until October 1st!

---

Technical

July 8, 2016: All Windows engine issues should be fixed. Next on the list is Linux users, and then Mac users!
July 17, 2016: Mac and Linux users are now able to hop right back into Toontown! Learn more about the update here.
September 20, 2016: Toontown Rewritten is now available for macOS Sierra (10.12).
October 28, 2016: An update implemented a warning about an issue with in-game audio for Mac users. Although audio is disabled by default, it can be enabled but will result in gameplay interruption and is recommended to keep audio disabled until a fix arrives.

---

Social

June 17, 2016: Toontown Rewritten has a created a new social media outlet on Tumblr!
July 6, 2016: @TT_Rewritten reached over 6,500 followers on Twitter!
July 20, 2016: With the help of organizing a social media storm to show the world how #ToonEnough we can be, @TT_Rewritten reached over 7,000 followers on Twitter!

December 10, 2016 [ttr-beta-v1.13.3]

Tweaks:

• Minor changes to various cutscenes in the Toontorial for better player experience.
• HQ Harry has an improved cutscene in the Toontorial.
• Transparency for the ToonFest glasses has slightly changed.

Bugfixes:

• Various typo fixes and dialogue improvements throughout the game.
• Fix an exploit which allowed players to create a loud sound by spamming animations or SpeedChat phrases.
• Fix a bug that prevented players from clicking Tutorial Tom's speech bubbles in the Toontorial.
• Eliminate visual stuttering for the Toontorial Flunky.
• The Toontorial Battle no longer clips with the edge of the sidewalk.
• A number of Toontorial ToonTasks now properly zoom in to the NPC.
• Fixed lack of widescreen support for the "Make a Friend" ToonTask GUI.
• Street props will now always display in Toontown Central. A previous bug made them only appear after visiting a street.
• Fix a bug causing both Toon HQ doors to display arrows in the margins
• The final battle of the CEO now plays the correct music.
• Fix a bug which caused nametags to be unclickable during the final battle of the CEO.
• Fix a bug which caused the VP to stop moving after being ran into while stunned.

For more release notes, see here.

Toontown Rewritten Wiki is in need of receiving a Toon-Up, and you can help out by creating or expanding some of our pages!

Be sure to also check out Insights to see other incomplete tasks. After all, there are plenty of things to do that need our attention!

Disclaimer

Toontown Rewritten Wiki is a database focusing on the recreation of the former Disney's Toontown Online, Toontown Rewritten. The official staff members of Toontown Rewritten are not affiliated whatsoever with Toontown Rewritten Wiki.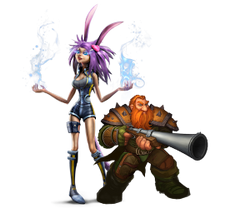 MMO Games
Go to these sites for info or for help with your own wiki!
Aion • Aura Kingdom • Battlestar Galactica Online • City of Titans • DC Universe Online • Diep.io • Disney's Toontown Online • Dragomon Hunter • Dragon's Prophet • Dragon Nest SEA • Echo of Soul • EVE Online • Fallen Earth • Final Fantasy • MapleStory • Marvel Heroes • Ragnarok Online • Revelation Online • ROBLOX • RuneScape • Skyforge • Star Wars: The Old Republic • TERA • Tibia • Toontown Rewritten • World of Warcraft
Want your community included? See how!


What was your favorite part about ToonFest 2016?
You can view previous poll results by clicking here.
Previous poll: Which species would you vote for in the Toontown Species Election if the following were the candidates?
Winner: Cow with 179 votes out of 358 in total.
Ad blocker interference detected!
Wikia is a free-to-use site that makes money from advertising. We have a modified experience for viewers using ad blockers

Wikia is not accessible if you've made further modifications. Remove the custom ad blocker rule(s) and the page will load as expected.