Welcome, Toons and Toonettes! The Toontown Rewritten Wiki is the database focusing on the recreation of the former Disney's Toontown Online, Toontown Rewritten.

We look forward to having YOU be part of our community to discuss all things Toontown! By joining the wiki, you agree to follow our policies and become absolutely "Toon Enough". If you have any questions about the wiki, please do not hesitate to ask. Enjoy!
Creation
September 21, 2013
Number of pages


2,064

Number of files


6,416

Posted by Toon HQ on June 12, 2017 04:00 PM
ATTENTION ALL TOONS: A MEGA-Invasion has Begun!
Skelecogs are taking over Toontown!!!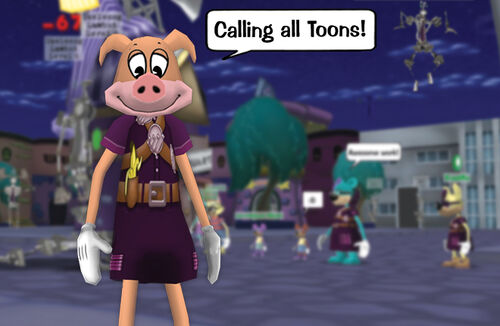 Toontown's birthday filled our town with a grand, silly celebration -- a kind of celebration that the Cogs can't stand! Their factory has kicked up to maximum speed, completely skipping the suits and sending out Skelecogs to invade Toontown!
Skelecogs are no force to reckon with. We expect that they'll be invading Toontown for the next two days, but luckily, the Toon Resistance is on the case. Resistance Rangers are hitting the streets to help Toons defeat this metal menace, and they're handing out Toon Resistance uniforms!
We've also managed to secure the following safe districts:
In response to Toon feedback, Toon HQ managed to secure additional safe districts so that even more of Toontown is protected from the Cogs during Mega-Invasions!
Thanks for your service to Toontown, Toons! Go out there and help the Resistance Rangers fight back those scary Skelecogs!
For more news blogs, see here.
Game

July 1, 2016: Toontown has received a major update consisting of new tweaks, server improvements, and OMG!Con 2016 items! Learn more about the update here.
July 2, 2016: From now until July 31st, make sure you receive your Member Mailer by following the instructions here!
July 9, 2016: Be sure to claim your items using "omgcon2016" in your Shticker Book before August 1st!
July 18, 2016: Along with the OMG!Con items, be sure to claim your brand new anvil accessory using "weight-off-shoulders" in your Shticker Book before August 1st!
July 19, 2016: To celebrate Toontown Rewritten reaching 1,000,000 registered accounts, take part in the offical social media storm by creating a post tagging #ToonEnough for a chance to win an exclusive Toontown Rewritten poster.
August 8, 2016: The Toontown Species Election is arriving soon! While Alec Tinn is still busy getting his preparations prepared, check out the blog for more information about the event!
August 20, 2016: Toons and Toonettes, it's time to get your party hats on and prepare for ToonFest 2016!
September 19, 2016: While an unfortunate server maintenance prevented ToonFest 2016 from opening its doors in the game, Alec Tinn kicks off the celebration by allowing Toons to nominate a new species from now until October 1st!
March 19, 2017: Ever imagined a real world event all about Toontown and always wanted a chance to go? Start planning a summer vacation now, because Toontown Rewritten is going to ReplayFX!
April 10, 2017: April Toons Week could not get any sillier than gaining new visitors to wrap up the first week of April. Doodles have moved into Toontown!

---

Technical

July 8, 2016: All Windows engine issues should be fixed. Next on the list is Linux users, and then Mac users!
July 17, 2016: Mac and Linux users are now able to hop right back into Toontown! Learn more about the update here.
September 20, 2016: Toontown Rewritten is now available for macOS Sierra (10.12).
October 28, 2016: An update implemented a warning about an issue with in-game audio for Mac users. Although audio is disabled by default, it can be enabled but will result in gameplay interruption and is recommended to keep audio disabled until a fix arrives.

---

Social

June 12, 2017 [ttr-beta-v1.15.3]

Maintenance:

• Tweaked client settings for improved performance. We are currently investigating an issue that drives up RAM usage on some computers.
• Fixed some of our diagnostic information to improve logging client crash reports. This will allow us to track down crashes much faster!
• Improved tools for Cast Member Toons to better serve Toontown.

Bugfixes:

• The CEO reigns no longer! Fixed a bug causing Toons to get stuck after being squished by the CEO.
• Battle Races will no longer start with less than two Toons on the starting block.
• Fixed a district crash caused by using an Anvil after all racers had already finished.
• Fixed a district crash caused by a client disconnecting unexpectedly before the Toontorial starts.
• Fixed a bug in one of the Bossbot Golf Course Mazes which subtracted Laff from Toons before the timer expired.
• Fixed a bug relating to friend management that would occasionally cause lag spikes and district crashes.

Tweaks:

• Added additional safe districts during Mega-Invasions.
• Implemented a number of solutions to stop cheating during races in Goofy Speedway.
• Racing logic will soon be completely rewritten soon to mend some of the bugs that have been left over from Alpha, making racing more fun for everyone!

For more release notes, see here.

Toontown Rewritten Wiki is in need of receiving a Toon-Up, and you can help out by creating or expanding some of our pages!

Be sure to also check out Insights to see other incomplete tasks. After all, there are plenty of things to do that need our attention!

Disclaimer

Toontown Rewritten Wiki is a database focusing on the recreation of the former Disney's Toontown Online, Toontown Rewritten. The official staff members of Toontown Rewritten are not affiliated whatsoever with Toontown Rewritten Wiki.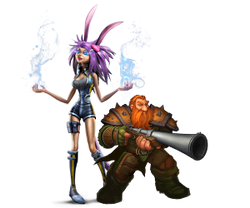 MMO Games
Go to these sites for info or for help with your own wiki!
Aion • Aura Kingdom • Battlestar Galactica Online • City of Titans • DC Universe Online • Diep.io • Disney's Toontown Online • Dragon's Prophet • Dragon Nest SEA • EVE Online • Fallen Earth • Final Fantasy • MapleStory • Marvel Heroes • Ragnarok Online • Revelation Online • ROBLOX • RuneScape • Skyforge • Star Wars: The Old Republic • TERA • Tibia • Toontown Rewritten • WildStar Online • World of Warcraft
Want your community included? See how!


The poll is currently unavailable. Stay TOONed!
---
Previous poll: What was your favorite part about ToonFest 2016?
Winner: Merry Multipliers with 57 votes out of 116 in total.
Ad blocker interference detected!
Wikia is a free-to-use site that makes money from advertising. We have a modified experience for viewers using ad blockers

Wikia is not accessible if you've made further modifications. Remove the custom ad blocker rule(s) and the page will load as expected.