The following content has been adapted from this link:
https://www.toontownrewritten.com/help/mailers
---
Toontown Member Mailers are FREE real world, "out-of-Tooniverse" packets straight from the Toon Council with Trading Cards and other merchandise packed in them. We'll send them to you for free to almost anywhere in the world - all that we ask is that you just send us a letter!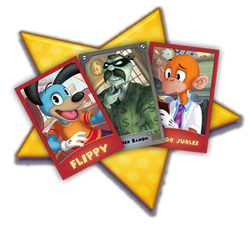 Last year, we distributed three trading cards of characters from our Doomsday event: Alec Tinn, The Director of Ambush Marketing, and Slappy Quackintosh.
This year, we have three brand new cards to add to the collection: Flippy Doggenbottom, Robber Baron, and Doctor Surlee!
Keep your eye on the blog for the next set of merchandise so that you can collect it all! Here's how it works:
Obtain two envelopes, and two stamps.
You'll need one of these for sending, and one of these for us to send you your mailer back! Make sure your envelopes are no smaller than 4 by 6 inches, or else some of your cards may get bent.


Address the first envelope to yourself.
Don't seal the envelope! We use this one to send back your Toontown Trading Cards.


Address the second envelope to our mailer program location.
Toontown Member Mailing
PO Box 240781
Saint Paul, MN 55124


Put stamps on both envelopes.
One envelope needs to get to us, and one envelope needs to get back to you. Postmaster Pete won't send any letters without stamps!
Take the first envelope and stuff it into your second one.
You may need to fold it in half or squish it in there - but try not to get it too bent up. We'll be using this envelope, after all! (If you have some fanart or a letter for us, stuff it in the second envelope as well!)

Seal the second envelope, and stick it in the mail!
After a week or so, you should get your first letter back in the mail complete with a postcard from Flippy and three Toontown Trading Cards!

When sending in your envelope, feel free to stuff it with your own letter or fanart if you want to send us one. We love seeing it, and it may end up on our website! Remember, though: Always ask a parent before participating!
Mailers will be fulfilled while supplies last, and only if your outer envelope was postmarked on or before July 31st, 2016. Only one inner envelope may be enclosed within each outer envelope, but multiple envelopes from a single household are allowed and encouraged. Toontown Rewritten reserves the right to limit quantities fulfilled to each household.
International fulfillment is possible, but complicated. United States Postage must be affixed to the envelope addressed to yourself, but US Postage can typically only be bought in the United States. If you are located outside of the United States, we recommend that you find a friend within the US to help you out. They would prepare the inner envelope, addressed to you, the international recipient, and pay for US International Postage (typically $1.20, but you should check postage rates to your country). Your friend would then mail the international envelope to our mailer program using standard domestic postage.
The other option is to enclose an International Reply Coupon instead of postage on the inner envelope. However, these coupons are not available in all countries.
Ad blocker interference detected!
Wikia is a free-to-use site that makes money from advertising. We have a modified experience for viewers using ad blockers

Wikia is not accessible if you've made further modifications. Remove the custom ad blocker rule(s) and the page will load as expected.