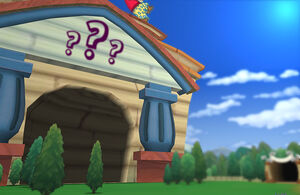 The Mystery Tunnel was a giant tunnel located at Chip 'n Dale's MiniGolf in Chip 'n Dale's Acorn Acres. Hence its name, the tunnel did not serve a true purpose, as any Toon who entered would simply revert back to Chip 'n Dale's MiniGolf. Shortly after the release of Bossbot Headquarters, the tunnel disappeared and was replaced with a dark, charcoal-stained tunnel.
Trivia
In the image shown above from blog posts, the Mystery Tunnel had a triple question mark symbol, despite this symbol not appearing in-game.
The Mystery Tunnel was in the spot where Bossbot Headquarters is supposed to be, which means it was used as a placeholder until the headquarters was released in the game.
Before Bossbot Headquarters was released, the Mystery Tunnel temporarily disappeared for April Toons Week in 2015 when a prank involving an area known as "Barbecue Headquarters" was pulled.
Gallery
Ad blocker interference detected!
Wikia is a free-to-use site that makes money from advertising. We have a modified experience for viewers using ad blockers

Wikia is not accessible if you've made further modifications. Remove the custom ad blocker rule(s) and the page will load as expected.