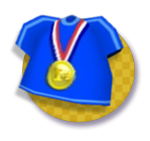 The New Year's Top Toons Marathon is an event that occurs every year on January. The Toon Headquarters is in need of help to test their "Top Toons" system by keeping track of Toons who defeat the most Cogs and most Cog Building floors in a certain amount of time. Once the winners are announced, they receive an exclusive Gold Medal Shirt sent straight to their mailbox at the estate.
Trivia
A similar marathon was held throughout the weekend of OMG!Con 2016 from June 10th to June 12th.
Gallery
2015
2016
2017
Ad blocker interference detected!
Wikia is a free-to-use site that makes money from advertising. We have a modified experience for viewers using ad blockers

Wikia is not accessible if you've made further modifications. Remove the custom ad blocker rule(s) and the page will load as expected.