Rabbit is a toon species.
Head Shape
Rabbits have four distinct head shapes:
Notable Rabbits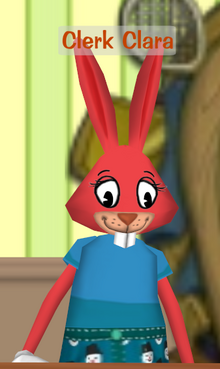 For a full list, see Rabbits.
Notable rabbits include Clerk Clara, Lil Oldman, Slate Blue Rabbit, and Riggy Marole.
Speech
Rabbits emit squeaks when speaking. If a rabbit uses an invalid word in SpeedChat Plus, the word will be censored by "eek", "eepr", "eepy" or "eeky".
| | |
| --- | --- |
| One word | |
| Two words | |
| Multiple words | |
| Exclamatory | |
| Question | |
| Owooo! | |
Trivia
Ad blocker interference detected!
Wikia is a free-to-use site that makes money from advertising. We have a modified experience for viewers using ad blockers

Wikia is not accessible if you've made further modifications. Remove the custom ad blocker rule(s) and the page will load as expected.