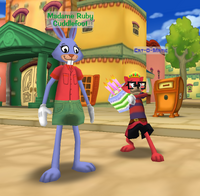 Throw is a gag track that has a medium accuracy and is a primary gag (Meaning you need this gag to finish ToonTown Rewritten). This gag is the fifth gag used in a Cog battle. Each gag (except level 7) is only able to target one Cog at a time.
When your Throw is maxed, the experience bar will be replaced by a "500 to go!" mark; earning those 500 experience points will reward you the Wedding Cake. If you already have the Wedding Cake, and you finish the 500 Exp mark, you will still keep the wedding cake until you use your current one.
Gags
Trivia
Gallery
Ad blocker interference detected!
Wikia is a free-to-use site that makes money from advertising. We have a modified experience for viewers using ad blockers

Wikia is not accessible if you've made further modifications. Remove the custom ad blocker rule(s) and the page will load as expected.