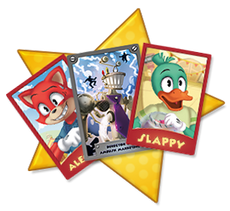 The Toon Council is a group of Toons who pass all laws, decrees, Toon names, and other important items in Toontown Rewritten and are also the main governing body that makes sure Toontown is in tip-top shape. Not much is known about the Toon Council other than the Toon Council Presidential Elections hosted in April 19, 2014, which involved Slappy and Flippy running for the position of Toon Council president.
Known Members
Comics
In Acorn Acres in January of 2004 at about 9:00 A.M., Good ol' Gil Giggles and Lord Lowden Clear discuss the potential threat of Bossbot Headquarters. After deciding that the Toon Council is right about the potential threat of Bossbot Headquarters, Lord Lowden Clear and Gil decide that they must send a team to search for the headquarters.
Trivia
Even though Slappy was elected as the new president, Flippy accepted presidency and became the temporary president until Slappy returns from his absence.
The Toon Council fills the responsibility of reviewing user-generated names in the Create-A-Toon.
In out-of-Tooniverse, real life merchandise is given by the Toon Council (specifically the Toontown Rewritten Team) during real life ToonFest events at OMG!Con or through Member Mailers.
Lil Oldman was the only known and confirmed member of the Toon Council besides Flippy in Disney's Toontown Online. It is assumed that Lil Oldman still remains part of the Toon Council.
Although Doctor Surlee is the leader of Loony Labs and Lord Lowden Clear is the leader of the Toon Resistance, they both represent a huge help for the Toon Council in many scenarios.
Ad blocker interference detected!
Wikia is a free-to-use site that makes money from advertising. We have a modified experience for viewers using ad blockers

Wikia is not accessible if you've made further modifications. Remove the custom ad blocker rule(s) and the page will load as expected.