"Time is ticking."
As the clock continues ticking, things may start to become irrelevant within Toontown Rewritten. This page seems to have information on outdated content.
The Toon Council Presidential Elections was a major event where Flippy and Slappy were in competition with one-another to become the official president of the Toon Council. Although the winner had been successfully elected, trouble brewed in Toontown for the very first time, as the Cogs unleashed an ambush marketing invasion known as Doomsday on the same day.
Campaigns
Both candidates, Flippy and Slappy, conducted a series of campaigns to whew the citizens of Toontown in order to win their votes.
Flippy's campaigns:
Slappy's campaigns:
Electoral updates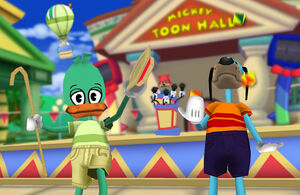 The election took place from February 17, 2014 to April 19, 2014, and each candidate hosted their own daily campaigns each consecutive day. It depended on which candidate hosted them, but usually one of them picked up where the other left off. The following are a series of blog posts that took place over the course of the election:
The main event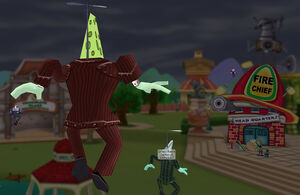 Before the election, Doctor Surlee stood outside to welcome Toons far and wide. Once the election began, Alec Tinn, Flippy, and Slappy exited out of the Toon Hall and approached to the stage. Flippy and Slappy then began their welcoming speeches. After that, Alec Tinn started the Grand Electoral Counters, revealing Slappy as the winner. Just as the celebration began, a Yesman came down from the sky. All Toons were surprised and somewhat frightened to encounter some strange robot, but Slappy's wacky personality led him to his downfall. The Yesman used "Positive Reinforcement" to drain all of Slappy's laff and cause him to go sad. Flippy defeated the Yesman with one of his pies after demanding where Slappy was transported to, thus the Cogs had arrived to initiate Doomsday.
The event was livestreamed by Toontown Rewritten on their official YouTube channel, as well as many other streamers of the Toontown community.
Soundtrack
| | |
| --- | --- |
| Introducing Alec Tinn | |
| Announcing the Winner of the Election | |
| An Unexpected Interruption | |
| Positive Reinforcement | |
| Doomsday Battle Music | |
| Doomsday Victory Music | |
| Ending the Election | |
Credits
After the election ended, the camera zoomed into a portal and showed a credits scene that introduced staff members of the Toontown Rewritten Team. When the credits finished, a message would come up on the screen revealing that the game had closed until Beta. Several of the staff members had silly captions mostly related to blog posts published by them. (For example, Hawkheart was listed as the Fish Bingo Controller. This is a direct reference to the blog post, "Daily Alpha Update: The Tale of the Fish Bingo Controller").
All the credits can be seen at the end of the election livestream around 3:04:09.
Toontown Rewritten Credits
Trivia
Gallery
Images
Videos