The Toon Council Presidential Elections was a major event where Slappy and Flippy were in competition with one-another to become the official president of the Toon Council.
The Election
For more information about the election, see Doomsday.
Before the election, Doctor Surlee stood outside, welcoming the Toons. Once the election began, Alec Tinn, Flippy, and Slappy walked outside from Toon Hall and approached the stage. Flippy and Slappy then began their welcoming speeches. After that, Alec Tinn started the Grand Electoral Counters, revealing the winner: Slappy.
The Ceremony
Sir Max revealed that Toons would be split up into districts to minimize crowds. Districts were able to sustain 20 Toons before becoming full, and friends can teleport into the district until it hits 30. This was later learned to be put in place to balance teams for Doomsday itself. Toontown Rewritten's official YouTube channel streamed the live event, however many others did as well.
Flippy's Campaign
Flippy was Slappy's opponent for the election. His campaign tactics included:
Slappy's Campaign
Slappy was Flippy's opponent for the election. His campaign tactics included:
Electoral Updates & Campaigns
The election took place from February 17, 2014 to April 19, 2014, and each candidate hosted their own daily campaigns each consecutive day. It depended which candidate hosted them, but usually one of them picked up where the other left off. The following are the list of campaigns and electoral updates that took place over the course of the election:
Trivia
Gallery
Credits
After the election ended, the camera zoomed into a portal and showed the credits. The credits included all the contributors to the Ceremony and what their purpose in the team is. When the credits finished, a message would come up on the screen telling you that the game was now closed until Beta. Several of the developers had silly captions mostly related to blog posts published by them. (For example, Hawkheart was listed as the Fish Bingo Controller. This is a direct reference to the blog post The Tale of the Fish Bingo Controller).
All the credits can be seen at the end of the election livestream around 3:04:09.
Toontown Rewritten Credits
Soundtrack
| | |
| --- | --- |
| Introducing Alec Tinn | |
| Announcing the Winner of the Election | |
| An Unexpected Interruption | |
| Positive Reinforcement | |
| Doomsday Battle Music | |
| Doomsday Victory Music | |
| Ending the Election | |
Videos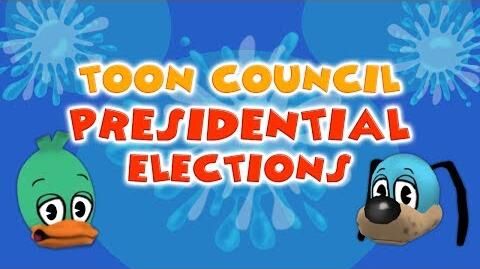 Ad blocker interference detected!
Wikia is a free-to-use site that makes money from advertising. We have a modified experience for viewers using ad blockers

Wikia is not accessible if you've made further modifications. Remove the custom ad blocker rule(s) and the page will load as expected.