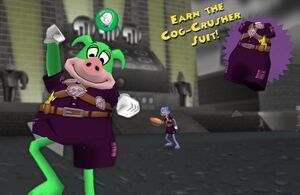 The Toon Resistance is a Toon group led by Lord Lowden Clear against the Cogs. Several Resistance Rangers can be found as NPCs in certain boss battles and live in buildings, while the majority appear as real players acting as staff members during special events.
Resistance Rangers
There are plenty of Resistance Rangers around Toontown, but moderators from the Toontown Rewritten Team use the same symbol as the Rangers. Resistance Rangers are identified by a green symbol with a hand, and wear their very own Cog-Crusher Outfit. Below are members of the Toon Resistance:
Resistance Salute
The Resistance Salute is a special emote used to signify the membership or affiliation of the Toon Resistance. When using the emote, your Toon will jump up and say "Toons of the world unite!". It can be earned by visiting Whispering Willow in Pajama Place at Donald's Dreamland in her shop called Talking in Your Sleep Voice Training by saying the SpeedChat phrase, "Would you like some help?".
Events
Cog Marathons
The event hosted by the Toon Resistance for Cog Marathons was held in celebration of Double Experience Weekend. These marathons involved defeating Cog Buildings and Cogs from the streets. If a Resistance Ranger noticed that you were showing how "Toon Enough" you can be, you would be granted the Cog-Crusher Outfit. The event started on October 10, 2014 and ended on October 12, 2014.
Operation: Storm Sellbot Headquarters
The Toon Resistance collected information during several weeks of July 2015 to prepare for their biggest move against the Cogs: Operation: Storm Sellbot Headquarters. The Resistance Rangers managed to slow down production of the Sellbot Factory, which made the Vice President become weaker. Toons who did not have their own Sellbot Cog Disguise received Rental Suits to assist in fighting the Vice President. The Toon Resistance secured an outpost where they offered special Toon Resistance ToonTasks for unique rewards such as double experience, Cog Disguise parts, merits, SOS cards, and gag throws.