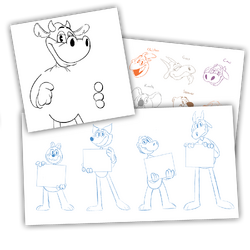 Unreleased species are Toon species that lost the numerous elections that were held in Toontown Online. Sir Max mentioned the possibility of having another vote once Toontown Rewritten fully opened to the public (due to the fact that there was supposed to be an election in 2012, but it never came to fruition)[citation needed]. Just like Sir Max had once said, it was officially announced during OMG!Con 2016 that the Toontown Species Election will make a return once again, on behalf of Alec Tinn.
The three unreleased species from Toontown Online are the cow, chicken, and goat. These species were candidates for one of the elections from years past, but neither have won a single election.
Ad blocker interference detected!
Wikia is a free-to-use site that makes money from advertising. We have a modified experience for viewers using ad blockers

Wikia is not accessible if you've made further modifications. Remove the custom ad blocker rule(s) and the page will load as expected.